Microbiology covers the content and sequencing requirements for a microbiology course typically taken by non-majors, typically lasting a single semester. This textbook places a strong emphasis on fundamental microbiology principles, especially in relation to potential career opportunities in allied health fields.
The instructional components incorporated in the book are designed to actively engage students and enhance their understanding, all the while maintaining a robust focus on practical applications and the rigorous scientific foundation of the subject matter. The inclusion of visual aids such as illustrations, diagrams, and photographs in Microbiology significantly aids students in grasping essential concepts.
Microbiology Textbook is the product of a collaborative publishing venture between OpenStax and the American Society for Microbiology Press. It seamlessly adheres to the educational standards set by the American Society for Microbiology.
How to Get Your Free Copy:
Getting your hands on this informative and visually appealing microbiology book is easy. Simply click the link below to download your free PDF copy of "Microbiology Unveiled" and start your journey into the fascinating world of microorganisms.
Download Table of Content
You might want to check what the textbook contains before downloading because the size is large.
Download Table of Contents here
Download The Microbiology Textbook
Page Count: 1265pgs
Size: 331.6mb
Don't miss out on this opportunity to expand your knowledge of microbiology. Download your free copy today, and uncover the secrets of the microbial world!
PS: To download for iPhone users, long press the download button, and click on "download linked file"
Gifted Hands – Ben Carson [Free PDF Download]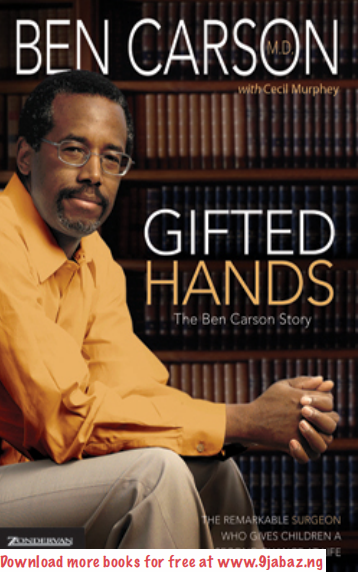 Are you in search of an inspiring and life-changing story that will touch your heart and motivate you to overcome challenges? Look no further than "Gifted Hands" by Dr. Ben Carson. This extraordinary autobiography not only shares the incredible life journey of one of the world's most renowned neurosurgeons but also imparts valuable life lessons that can empower you to achieve greatness. The best part? You can download "Gifted Hands" for free right here!
Discover the Inspiring Journey of Dr. Ben Carson
"Gifted Hands" is a compelling and deeply moving memoir that traces Dr. Ben Carson's remarkable journey from his humble beginnings in inner-city Detroit to becoming a world-class neurosurgeon. Dr. Carson's story is a testament to the power of determination, perseverance, and the human spirit.
Key Takeaways from "Gifted Hands":
Overcoming Adversity: Dr. Carson faced numerous challenges and obstacles throughout his life, from poverty and a turbulent childhood to academic struggles. His story teaches us that with unwavering determination, anyone can rise above adversity and achieve their dreams.
The Importance of Education: Education is a central theme in Dr. Carson's life. His passion for learning and his commitment to excellence propelled him to the top of his field. His journey underscores the significance of education as a pathway to success.
The Power of Faith: Dr. Carson's faith played a pivotal role in his life and career. He shares how faith and spirituality provided him with strength, guidance, and a sense of purpose.
Giving Back: Throughout his career, Dr. Carson has dedicated himself to helping others, especially children facing neurological challenges. His philanthropic efforts demonstrate the importance of giving back to the community and making a positive impact.
Why You Should Download "Gifted Hands" for Free:
Inspiration: Dr. Carson's story is a powerful source of inspiration. It reminds us that with determination, hard work, and faith, we can overcome obstacles and achieve greatness in our own lives.
Motivation: "Gifted Hands" encourages readers to strive for excellence in their chosen paths. Dr. Carson's dedication to continuous learning and improvement serves as a motivating example.
Life Lessons: The book is packed with valuable life lessons, from the importance of education and perseverance to the transformative power of faith and compassion.
How to Get Your Free Copy:
We believe that Dr. Ben Carson's story is a gift that should be shared with everyone. That's why we're offering "Gifted Hands" as a free download. Simply click the link below to access your free copy of this inspirational memoir:
Page Count: 237pgs
Don't miss this opportunity to be inspired and motivated by the extraordinary life of Dr. Ben Carson. Download your free copy of "Gifted Hands" today and embark on a journey of hope, determination, and triumph!