Here's the OAU Post UTME Past Question for the Faculty of Science and Technology/Engineering for the 2021/2022 edition.
This is the most original, most recent OAU Past Question you will ever see online for free, you are in the right place!
In your quest to prepare effectively for the OAU (Obafemi Awolowo University) Post UTME, you may come across various sources offering past questions. However, if you're seeking the most original, up-to-date, and exclusive materials that you won't find anywhere else online for free, look no further. We have curated a selection of OAU past questions that are both recent and completely free.
"This is the most original, most recent OAU Past Question you will ever see online for free, and you won't find it anywhere else."
This statement reflects our commitment to providing you with a unique and unparalleled resource to help you succeed in your OAU Post UTME examination.
The Past Question contains these subjects;
Engish
Aptitude Test
Mathematics
General paper
Chemistry
Physics
Biology
Geography
Agricultural Science
Recommended:
OAU Pre degreee Past Questions
All Materials For OAU Freshers
Download OAU Post UTME Past Question here for free NOWW !!
Page Count: 185pgs
The password to this book is 9jabaz
Bonus For YOU❤️
I have an additional OAU Post UTME past question for you (For here!😂 You go read tire.🤣) I got it online and I actually paid for it, so that you could get it for free. Here is it.😌
Check OAU Post UTME Cut Off Mark For All Departments and how to calculate your aggregates after Post UTME Here (The most detailed info you must need right now.😂)

PS: For iPhone Users whenever you want to download, long press the download button, and click on "Download Linked File" The PDF will be downloaded on your phone and you can then check offline.
UNIZIK Post UTME Past Question [Free PDF Download]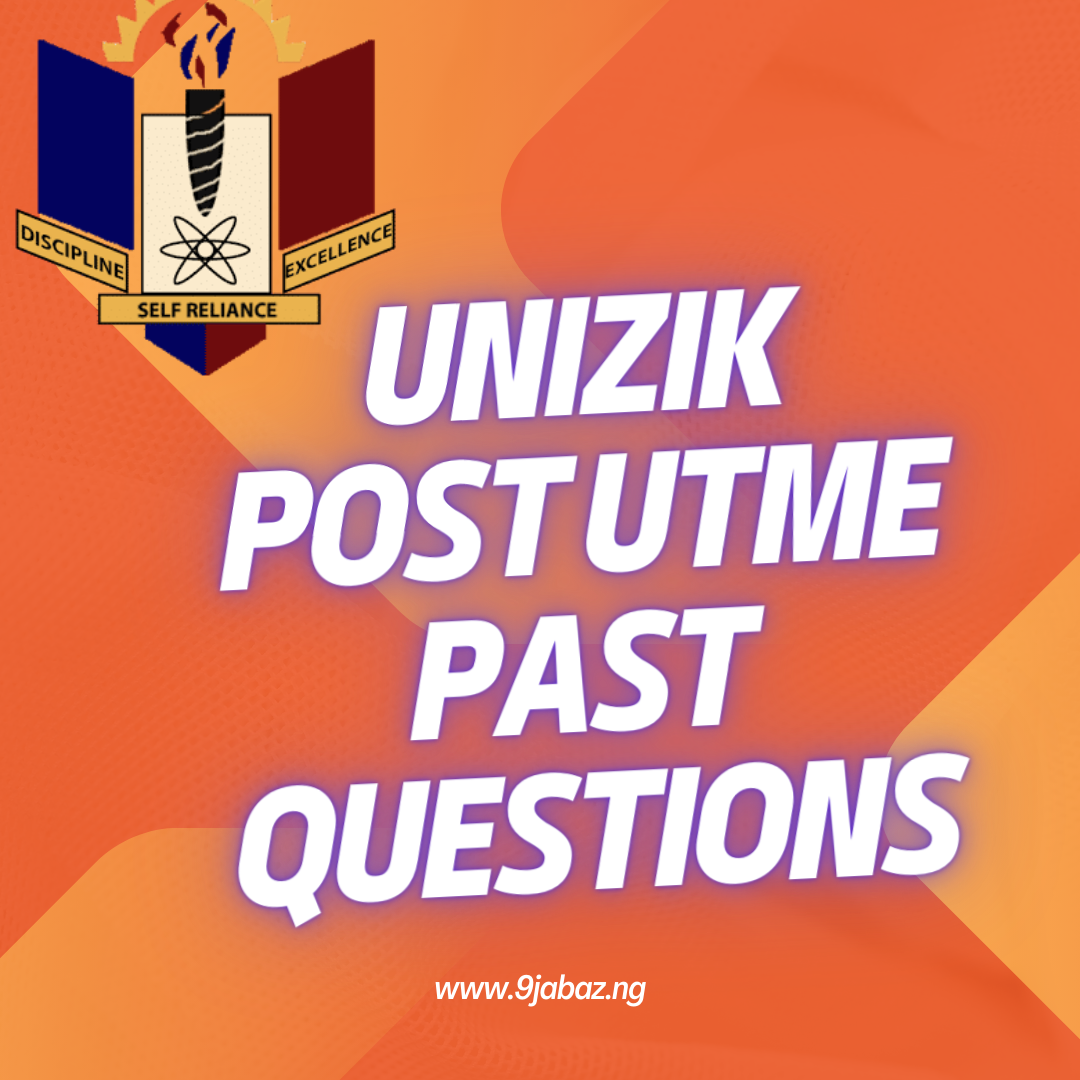 Are you ready to unlock the doors to academic excellence and embark on a journey to Nnamdi Azikiwe University, Awka (UNIZIK)? If you're aiming to secure your spot at this prestigious institution, then you're in the right place! At 9jabaz, we understand the significance of the Post UTME examination in your pursuit of higher education. That's why we're thrilled to offer you FREE UNIZIK Post UTME Past Questions in PDF format.
The Importance of UNIZIK Post UTME
The UNIZIK Post UTME examination is your golden opportunity to demonstrate your readiness for the academic challenges that await you. It's a crucial step in the admissions process, and your performance here can significantly impact your chances of joining this renowned institution. Preparing for the post-UTME is not just a necessity; it's a strategy for success.
Download by Faculty for Tailored Preparation
You can download past questions that are specific to your field of interest. Whether you're diving into the world of Arts and Sciences, Engineering, Medical Sciences, or Management and Social Sciences, we've got you covered. Tailor your preparation to match your ambitions!
Unlock More Resources
These subjects are essential for many UNIZIK courses, and brushing up on them can give you the edge you need to excel in your post- UTME.
Explore Our Study Tips Articles
We're not stopping there! We understand that effective study techniques are the keys to success. That's why we've crafted some valuable study tips articles to help you along the way:
"How to Learn Anything": Discover the secrets to mastering any subject with our comprehensive guide.
"The Art of Reading More Efficiently and Effectively": Uncover the techniques that will allow you to absorb information like a pro.
"The 5-R's For Effective Note Taking": Take your note-taking skills to the next level with our proven strategies.
Fun Facts About UNIZIK
Here's a fun fact about UNIZIK to inspire your academic journey: Did you know that UNIZIK, also known as Nnamdi Azikiwe University, was named in honor of Nigeria's first President, Dr. Nnamdi Azikiwe? It's a university with a rich history and an enduring commitment to academic excellence.
See;
Conclusion
In conclusion, your path to UNIZIK is filled with opportunities, and we're here to help you make the most of them. Download your FREE UNIZIK Post UTME Past Questions by faculty from 9jabaz today. Tailor your preparation, explore additional resources, and set yourself up for success. Remember, at UNIZIK, you're not just pursuing an education; you're embarking on a remarkable journey of growth and discovery. So, seize this chance, prepare diligently, and let UNIZIK be the canvas on which you paint your academic masterpiece!