CONSISTS
Solution to Mid-Contact test 2003-Till date
Solution to Contact Exam 2003- Till date
Solution to Tutorial Organic Question Set 1-76
Solution to Inorganic Tutorial Question 1-39
Solution to OAU Part One Organic Question
Solution to UME Organic Question 1978-Till date
Useful Hints to undeniable success
It contained a wide range of questions, covering majorly organic chemistry, and provided detailed answers to help understand the concepts better.
This should give you a sense of what to expect in the actual predegree exams and also, OAU Post UTME and help prepare accordingly.
If you're a predegree student of chemistry at OAU, or you are preparing for OAU Post UTME, I highly recommend getting your hands on this book – it might just be the key to your success!
Get OAU Predegree Past Question For 1st Contact here
Recommended:
Disclaimer: If THIS violates the law or has any issues, kindly mail us 9jabaz@gmail.com  to request the removal of the link.
Size: 18mb 
Page Count: 215pgs
Download OAU Predegree Past Question for Organic Chemistry by One Time Success for free!!
PS: To desktop users, for an easy download, right-click on the download button, then click on "save link as", it will be downloaded.
For iPhone Users whenever you want to download, long press the download button, and click on "Download Linked File" The PDF will be downloaded on your phone and you can then check offline.
You can join our newsletter here to get notified when we have a new book and also to keep you updated.
UNIZIK Post UTME Past Question [Free PDF Download]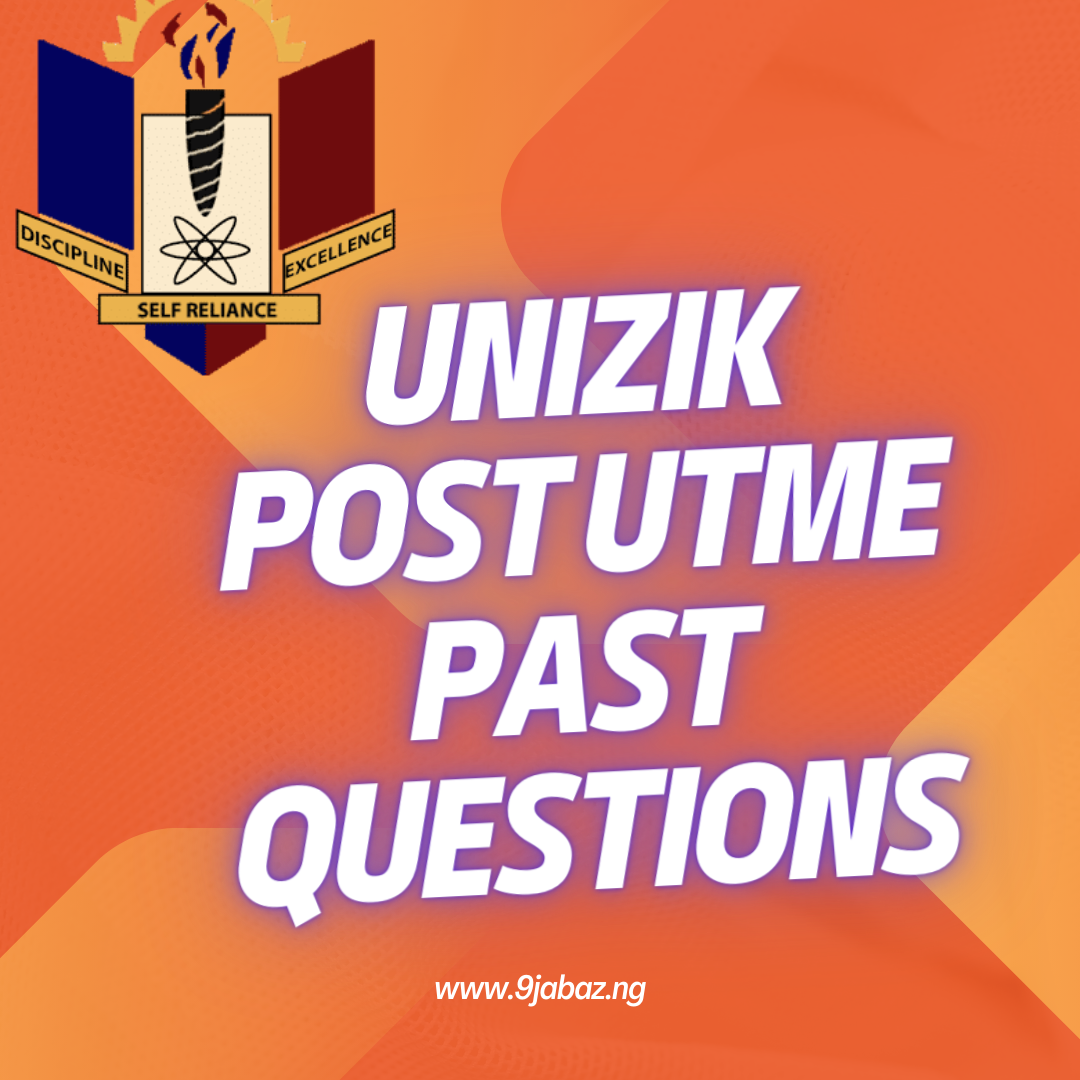 Are you ready to unlock the doors to academic excellence and embark on a journey to Nnamdi Azikiwe University, Awka (UNIZIK)? If you're aiming to secure your spot at this prestigious institution, then you're in the right place! At 9jabaz, we understand the significance of the Post UTME examination in your pursuit of higher education. That's why we're thrilled to offer you FREE UNIZIK Post UTME Past Questions in PDF format.
The Importance of UNIZIK Post UTME
The UNIZIK Post UTME examination is your golden opportunity to demonstrate your readiness for the academic challenges that await you. It's a crucial step in the admissions process, and your performance here can significantly impact your chances of joining this renowned institution. Preparing for the post-UTME is not just a necessity; it's a strategy for success.
Download by Faculty for Tailored Preparation
You can download past questions that are specific to your field of interest. Whether you're diving into the world of Arts and Sciences, Engineering, Medical Sciences, or Management and Social Sciences, we've got you covered. Tailor your preparation to match your ambitions!
Unlock More Resources
These subjects are essential for many UNIZIK courses, and brushing up on them can give you the edge you need to excel in your post- UTME.
Explore Our Study Tips Articles
We're not stopping there! We understand that effective study techniques are the keys to success. That's why we've crafted some valuable study tips articles to help you along the way:
"How to Learn Anything": Discover the secrets to mastering any subject with our comprehensive guide.
"The Art of Reading More Efficiently and Effectively": Uncover the techniques that will allow you to absorb information like a pro.
"The 5-R's For Effective Note Taking": Take your note-taking skills to the next level with our proven strategies.
Fun Facts About UNIZIK
Here's a fun fact about UNIZIK to inspire your academic journey: Did you know that UNIZIK, also known as Nnamdi Azikiwe University, was named in honor of Nigeria's first President, Dr. Nnamdi Azikiwe? It's a university with a rich history and an enduring commitment to academic excellence.
See;
Conclusion
In conclusion, your path to UNIZIK is filled with opportunities, and we're here to help you make the most of them. Download your FREE UNIZIK Post UTME Past Questions by faculty from 9jabaz today. Tailor your preparation, explore additional resources, and set yourself up for success. Remember, at UNIZIK, you're not just pursuing an education; you're embarking on a remarkable journey of growth and discovery. So, seize this chance, prepare diligently, and let UNIZIK be the canvas on which you paint your academic masterpiece!